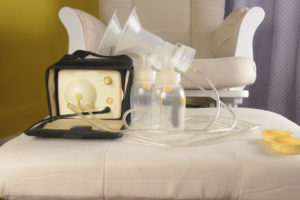 According to The Centers for Disease Control, breastfeeding rates drop dramatically when nursing mothers return to work. Each mom has her own journey with breastfeeding. And no matter which journey is taken, it's important that every mom is supported to do what's best for her and baby. Some may wonder what the big deal is with breastfeeding.
According to the World Health Organization, there are four major benefits of breastfeeding:
Babies who are exclusively breastfed from birth through their first six months of life get the best start.
Exclusive breastfeeding provides babies the nutrition for healthy growth and brain development. In fact, a 2015 study determined that on average, babies who are breastfed have a 2.6 higher intelligence quotient than non-breastfed babies, with larger differences for longer durations of breastfeeding.
Breast milk provides protection from respiratory infections, diarrheal diseases and other life-threatening ailments.
Breast milk provides protection against obesity and non-communicable diseases like diabetes and asthma.
While many women start out breastfeeding their newborns, only 38 percent of moms breastfeed their babies at six months. There can be several factors for not breastfeeding, but I'm sure most moms can agree that keeping up with breastfeeding after returning to work is not easy. Working moms are presented with challenges such as daily meetings that leave little time to get away from the desk, and having to take the pumping equipment back and forth to the office.
At Riverview Health Maternity Center, we understand the value of a good support network and the difference it can make when it comes to breastfeeding. For us, it starts with the first hour of your newborn's life with a program called the Golden Hour, and it extends along your breastfeeding journey with our weekly postpartum breastfeeding support group and private lactation consultant appointments. We also have a dedicated lactation room for moms and employees to pump and store breast milk.
For all those working and breastfeeding moms, keep it up! And for the ones who are planning for your journey, here are some helpful tips:
While you're pregnant
Understand your rights as a breastfeeding mom and speak with your employer beforehand about your plans to pump at the office. This will make your transition back to work smoother and feel less overwhelming.
After you welcome your baby
Build up your breast milk supply in the first four weeks of postpartum. This means letting your newborn baby nurse on-demand, at least 8-12 times per 24 hours. The more you nurse, the more milk you'll make.
Consider pumping after you nurse in the morning hours beginning around four weeks postpartum. At this stage, your milk supply should be well established. Store your expressed milk in the refrigerator or freezer so another caretaker can help feed your baby once per day. You'll also begin building a good stash of frozen milk for when you go back to work and need extra if you miss a pumping session.
Upon your return to work
Eventually, you'll build enough supply to breastfeed your baby while at home and at work. Set a phone alarm every three hours as a reminder to pump and try to plan your workday around your pumping sessions. To decrease the risk of plugged milk ducts and mastitis, empty your breasts frequently if you can.
Many mothers find it easier to breastfeed more frequently during evenings, days off and weekends. This can assist with bonding and building milk supply, especially for when your baby goes through growth spurts.
Being a working mom and keeping up with breastfeeding takes commitment, but the benefits are well worth it. The most important tip to keep in mind is to take good care of yourself by minimizing stress, eating well and emptying your breast frequently to protect your milk supply.
For any breastfeeding questions or to set up an appointment with a lactation consultant, please call 317.776.7202.