By Ryan Lawson, exercise specialist
When the kids are out of school for the summer, families are able to spend more time together participating in events and gatherings that make it a breeze to stay active. The American College of Sports Medicine recommends that children get one hour of physical activity daily. But just because the kids are back in school, it doesn't mean yo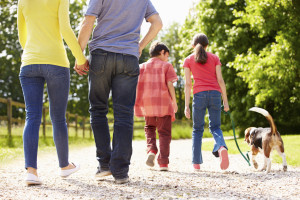 u have to stop being active. With a little creativity, incorporating physical group activities into your life is a snap.
Here are a few activities you can do to keep everyone moving and get some quality family time:
Involve the kids in a home improvement project.
Plan a day at a museum or local attraction where the kids are kept moving and exploring all day.
Make household chores a game. Instead of everyone having their own jobs, make it a team effort with a reward for properly completed tasks.
Watching TV? Instead of fast-forwarding or flipping through the channels during the commercials, turn them into a fitness break.
Pick a charity and sign up for and train for a 5K that supports that cause.
Walk the dog as a family.
Take an exercise class together. Some gyms offer classes that cater to both kids and parents.
Above all, remember it's up to you to make sure your kids get the exercise they need.