By Katie Boscia, MS, RD, IBCLC, CDE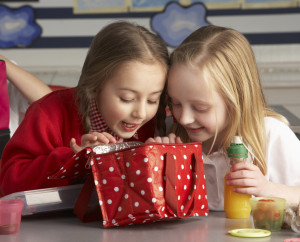 It's back to school time and with that comes packing kids' lunches. Kids can get tired of the same thing every day, so use these tips to help make their lunches more appealing and get them to eat healthier foods.
Use a cookie cutter to cut fun shapes in sandwiches, cucumbers or fruits.
Have a theme: For example, pack a fish-shaped tuna fish sandwich, goldfish crackers and yogurt with blue food coloring (for water).
Try a rainbow theme and try to get as many colors in their lunch as possible. Use lettuce and tomato on a sandwich, then add carrots, blueberries and bananas to the lunch.
Use dips to get kids to eat healthier: ranch with vegetables, hummus with whole-wheat pita bread and yogurt with fruit.
Let kids assemble their own meals. Crackers with lunchmeats, cheeses and veggies can be assembled at lunchtime by the kids.
Use a bento box or another divided container to make their lunch look neat.
Include a joke, note, picture or game inside their lunch for a fun surprise.
Use stickers to create faces on sandwich bags.
Let your children have input on what they want in their lunch but make the choices healthy. For example, ask them if they want carrots or cucumbers.
Use tortillas to make roll-ups with different ingredients like lunchmeats, cheeses and veggies.
Use pretzel sticks to make skewers of meats and cheese or even fruits and veggies.
Following these tips will help make lunch fun not only for your kids, but for you as well. Making lunch will become less of a chore and more of a creative way to show your love and get your kids to want to eat healthier foods.