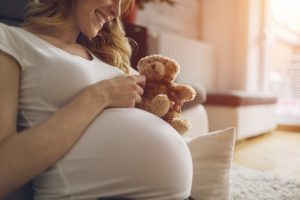 To those who are delivering here soon at Riverview Health during the COVID-19 pandemic—take a deep breath. We know that there is a lot of uncertainty right now and you may be feeling anxious. Please rest assured that the Riverview Health maternity team is doing everything possible to ensure a healthy environment for your labor, delivery and postpartum experience.
To keep you informed, here are some things you can expect when you come to Riverview Health for your delivery:
Mask Guidelines:
The current mask guidelines at Riverview Health are such that Riverview Health team members, visitors and patients should wear a mask when they are in patient and procedure rooms, as well as waiting rooms or areas where people are in close proximity. In addition, if a laboring mother chooses to walk the halls, she must wear a mask if she has respiratory symptoms. However, laboring mothers do not need to wear a mask while pushing during labor. Laboring mothers and their support person do not need to wear a mask in their room if no staff is present.
While masks are still recommended to prevent the transmission of illness, they are optional in the cafeteria, nursing stations, and any areas where there are no patients present.
You may have one overnight visitor and four additional visitors.
Each maternity patient is allowed one designated overnight support person who may not change. Patients may have four additional designated visitors throughout their stay—who may not change—and they must be at least 16 years of age or older, and they must self-screen for illness. Only two visitors are allowed during delivery, and one visitor in the operating room. The patient and visitors must all wear masks.
All visitors must:
— Be a least 16 years of age or older
— Not be ill
— Bring and wear a mask
— Not gather in public areas or waiting rooms
We have all the supplies you will need for your baby. As always, the maternity unit will provide diapers, wipes, lactation supplies or formula so you don't have to worry about packing those items. For our breastfeeding moms, we also coordinate with our Women's Boutique regarding the Medela breast pumps for home.
If you or your partner have concerns or questions, please do not hesitate to reach out to your physician's office or email OBeducation@riverview.org. We want you to feel as calm and confident in our maternity unit as we are, and we can't wait to see you soon for this happy chapter of your life.