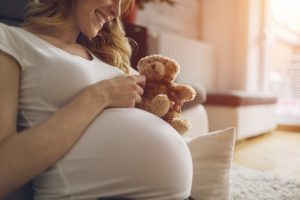 To those who are delivering here soon at Riverview Health during the COVID-19 pandemic—take a deep breath. We know that there is a lot of uncertainty right now and you may be feeling anxious. Please rest assured that the Riverview Health maternity team is doing everything possible to ensure a healthy environment for your labor, delivery and postpartum experience.
To keep you informed, here are some things you can expect when you come to Riverview Health for your delivery:
The doctors and nurses will all be wearing masks. Don't be alarmed—our team is opting to wear masks for all patient care (even when healthy) to add another layer of protection for you and your baby.
You and your support person must also wear masks. Riverview Health has implemented a strict mask policy for all visitors and patients. However, this only applies to you when there are hospital staff in the room with you, and you do not need to wear a mask while pushing during labor.
You are permitted one support person during your delivery. The person you choose must keep their hospital bracelet on for the entirety of your stay. Your support person should also plan to stay with you, so packing extra clothes or their favorite snacks is a great idea.
We will have snacks and meals available for your support person. While we are unfortunately unable to give your support person access to our snack and coffee station, don't worry! Simply ask your nurse and they will be happy to bring those items to your room directly. Riverview Health is also providing three complimentary meals a day for your support person, which will be delivered to your room.
You will have to remain in your room during labor. In an effort to reduce the spread of germs, we are unfortunately unable to allow patients to walk the halls while laboring.
We have all the supplies you will need for your baby. The maternity unit is able to provide diapers, wipes, lactation supplies or formula so you don't have to worry about packing those items. For our breastfeeding moms, we are also coordinating with our Women's Boutique regarding the Medela breast pumps for home.
If you or your partner have concerns or questions, please do not hesitate to reach out to your physician's office or email OBeducation@riverview.org. We want you to feel as calm and confident in our maternity unit as we are, and we can't wait to see you soon for this happy chapter of your life.