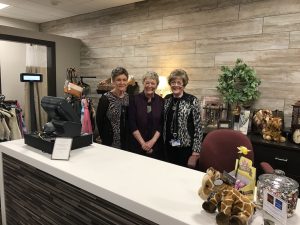 Riverview Health Board of Trustees announced the renaming of the Riverview Health Gift Shop to Carolyn's Corner Gift Shop in honor and memory of long-time volunteer Carolyn Johns. Carolyn passed away on March 10, 2022. Board members felt it only appropriate to rename the Gift Shop in her honor and in recognition of her dedication and many contributions to Riverview Health.
Having worked in retail since she was 18, Carolyn's expertise and work ethic was instrumental to the Riverview Health Gift Shop where she volunteered for more than 30 years until she retired in 2020.
The Gift Shop never felt like work for her. It was a place where Carolyn could be around people and keep up with the latest trends—all while volunteering for a good cause.
Carolyn's dedication to the Gift Shop is one of the primary reasons for its success. She was there Monday through Friday helping with purchasing and displays of the many gift and clothing items for which the shop has become well known. With more than 23,000 hours of volunteer time dedicated to the Gift Shop and just shy of her 90th birthday, Carolyn's retirement was both sad and joyous for employees at Riverview Health.
"We are so grateful for her years here," said Melinda Nash, volunteer manager at Riverview Health. "We're thrilled to be able to honor her."