By Carol Gelatt, RN, BSN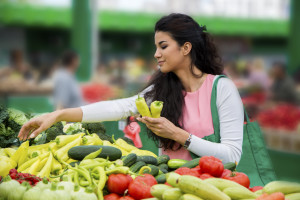 The summer season brings the rich colors of fresh fruits and vegetables from farm to table. These food groups are an important part of a healthy diet. Proper handling will maximize their quality and flavor, but more importantly, it'll reduce the risk of foodborne illnesses, such as Salmonella, E coli and Listeria. The Centers for Disease Control and Prevention has the following guidelines to help keep you and your family healthy while enjoying these nutritious foods.
Buying
Choose fruits and vegetables that are free of bruises or damaged spots unless you plan to cook them.
Cut fruits and vegetables should be refrigerated or packed in ice.
Keep produce separate from other purchases, such as raw meat, poultry and seafood.
Washing
Wash your hands before and after preparing fresh fruits and vegetables.
Wash or scrub fresh fruits and vegetables under running water before eating, cutting or cooking—including those you peel or those with a rind.
Prevent cross-contamination of harmful bacteria by using hot, soapy water to keep cutting boards, utensils and countertops clean during and after food preparation. Try using one clean cutting board for fresh fruits and vegetables, and a separate one for raw meat, poultry and seafood.
Storing
Make sure purchased fruits and vegetables are refrigerated (40 degrees or below) within two hours or sooner.
Store fresh fruits and vegetables away from raw meat, poultry or seafood as their juices may contain harmful germs.
Discard any cut fresh fruit or vegetable that is left at room temperature for more than two hours.