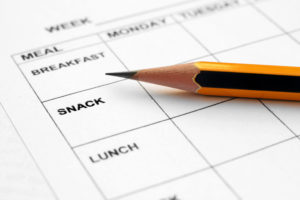 By Brittany Nelson, RD, CHWC
If you fail to plan, you can plan to fail.
I don't know if I always agree with this saying, but when it comes to snacks during our busy lives, I certainly do.
It happens all the time—you're getting the kids ready for school and forget to fuel yourself with breakfast. Then you're hungry around noon and don't have a healthy meal, so when a coworker asks if you want to go out for lunch, you say, "Of course! I'm starving!"
But how can you add food during your day so you don't become hangry (hungry+angry) or feel out-of-control when making food choices? This is where the snack-planning piece comes in.
Yes, meals are important to plan, but snacks can be more pertinent in your day-to-day activities—depending on how busy your day becomes. Sometimes, you'll have time to sit at a table and eat three meals a day—but not all the time. Before going to the grocery store and buying what you think would be "healthy" snack options, first reflect on your everyday foods and make a list of those you think would:
Work with your busy schedule
Be portable or easy to eat on-the-go
Be something you would look forward to eating compared to unhealthy food options in your environment (such as at work)
For example, ask yourself, "Would I eat raw carrots and broccoli instead of those donuts in the break room?" If the answer is "no," choose another snack that would beat the donuts in your daily food decision-making! A healthful snack would include carbohydrates, protein and a little healthy fat. Healthier snack options can be as simple as an apple with peanut butter or as complex as a homemade protein bar that includes an apple, banana and oat base with egg whites, flaxseeds, chia seeds and sliced almonds.
The quantity of food needed for a snack is based on your calorie and nutrient needs. Speak with a registered dietitian to fully understand your needs within the goals you're trying to reach. And remember, planning your snacks can help you avoid that starving, hangry feeling so you can stay in control and reach your goals!
Learn more about one-on-one nutritional counseling with a registered dietitian to help you achieve your wellness goals >>