By Susan Beckwith, Outpatient Rehab Clinical Liaison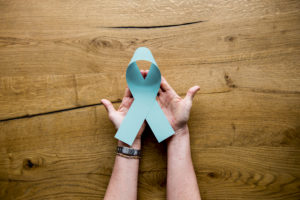 March is Lymphedema Awareness Month, making this a great opportunity to explore this disease and how we can fight it.
Part of the body's immune system is the lymphatic system, which works to fight infection and maintain the balance of fluids in various parts of the body. Vessels within the lymphatic system collect fluid, called lymph. Comparable to blood vessels, they carry the lymph back to the bloodstream. Lymphatic disease is when there is a breakdown in the system that prevents the lymph from passing properly. The most common lymphatic disease is lymphedema.
According to the Lymphatic Education and Research Network (2017), "Up to 10 million Americans, and hundreds of millions worldwide, suffer from lymphedema and lymphatic diseases. More people suffer from these diseases in the United States than suffer from Multiple Sclerosis, Muscular Dystrophy, ALS, Parkinson's disease and AIDS – combined."
Unfortunately, there is no cure for lymphedema. Left untreated, it can worsen and cause severe swelling and permanent changes to the tissues under the skin, such as thickening and scarring. However, with physical therapy the swelling and pain can be greatly improved.
At Riverview Health Rehab & Fitness we have five therapists that have completed the extensive 135-hour lymphedema certification course through Klose Training. Guenther Klose is the only Certified Manual Lymph Drainage/Complete Decongestive Therapy Instructor teaching in the U.S. He has been training therapists in lymphedema therapy since 1986.
If you're experiencing swelling in the arm, leg or toes, a feeling of heaviness or tightness, restricted range of motion, aching or discomfort, recurring infections and hardening and thickness of the skin (fibrosis) these are indicators of lymphedema. If you have one or more symptoms, you should reach out to your physician.
With a referral and diagnosis from a primary care provider, a Riverview Health physical therapist specializing in lymphedema can perform an evaluation and develop an individualized treatment plan to work toward goals and improving your quality of life.