By Susan Beckwith, Outpatient Rehab Clinical Liaison, and Sherrill Seibert, PT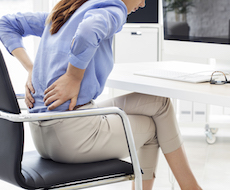 Low back pain is the second leading cause of disability in the United States. It can affect sleep, the ability to exercise and general activities of daily living—making our spine health an important part of our health and well-being.
Here are some practical ways to achieve a happy, healthy spine:
Balanced nutrition. This will help you maintain an appropriate weight and alleviate unnecessary stress on the spine.
Good hydration. Drinking plenty of water helps to maintain soft tissue elasticity and fluidity in your joints.
Appropriate flexibility and strength. Stretching tight tissues and strengthening weak muscles is important. Building core strength and increasing flexibility can help ease back pain.
Proper alignment, ergonomically correct workspaces and good lifting techniques. Each of these practices helps you avoid injury and assists your body with healing.
Maintaining a healthy spine in combination with overall good health can help you lead a pain-free life.  If you're experiencing back pain that lasts more than a few days or continues to worsen, make an appointment with your primary care physician. Your physician may then refer you to see a physical therapist as an initial conservative (nonsurgical) treatment option. The physical therapist will then determine the source of the problem and develop a treatment plan.
Riverview Health physical therapists are trained in a variety of techniques and specialties to treat low back pain. Some of their treatment techniques include: the McKenzie Method, Mulligan, Hesch, strain/counterstain and muscle energy techniques. The goal of this therapy is to decrease pain, increase function and provide education on how to care for your back long term.
With warm weather fun just around the corner, give your spine some needed TLC to enjoy an active, pain-free summer.