By Bailey Personette, RD, CD, Wellness Dietitian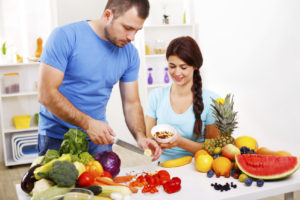 We're always told to eat our fruits and vegetables, but have you ever actually thought about how many, if any, you get in a day? The number may surprise you. The goal is to eat five fruits and vegetables each day, but most people don't reach that goal. Fruits and vegetables provide our bodies with vitamins, minerals and fiber, all of which are part of a healthy diet. The good news is there are ways to add more fruits and vegetables to your meals without changing too much of your diet. Here are 10 ways to add more fruits and vegetables to your day!
Add veggies to your omelet at breakfast. This can be an easy time to get in a serving of veggies by adding in bell peppers, onion or spinach to your omelet.
Toss some fruit in your oatmeal. Next time you have oatmeal for breakfast, add a cup of your favorite fruit for added nutrition and more fiber.
Make fruit part of your lunch. Fruit is a naturally sweet food and can be a great addition to any lunch whether you are on the go or eating out.
Get extra veggies on your sandwich. When ordering out or making food yourself, load your sandwiches or wraps with veggies before adding everything else.
Order a side salad with your meal. Salads can be a great way to get in lots of vegetables and possibly fruit as well.
Puree or heat your fruit and add to your pancakes or waffles. Warm blueberries, apples and strawberries drizzled with syrup are a tasty addition to a stack of pancakes at breakfast.
"Beef up" a meal by adding vegetables to the mixture. For example, the next time you make tacos, add a package of frozen riced cauliflower and see how much further the meal goes.
Make fruits and vegetables readily available by leaving a platter or container in your fridge. Fill it with your family's favorite sliced and washed fruits and veggies. Often it's not a matter of not wanting to eat vegetables and fruits—but a matter of convenience.
Make a smoothie. Experiment with different recipes using both fruits and veggies in a smoothie for an easy on-the-go option.
Add chunks of fruit to your chicken or tuna salad. Apples, pineapples, grapes and raisins are all great additions to any salad.