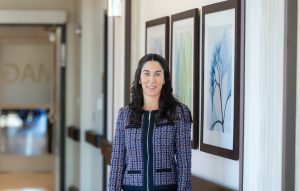 Heather Williams, MD, is an orthopedic surgeon at Riverview Health Physicians Orthopedics & Sports Medicine in Westfield. Dr. Williams is fellowship-trained in hand and microvascular surgery. She specializes in the treatment of carpal tunnel syndrome, arthritis of the hand and wrist, trigger finger and fracture care. Dr. Williams enjoys getting to know her patients and looking beyond the obvious to help them find the answers and treatment they need. As a new physician at Riverview Health, we asked Dr. Williams a few questions to get to know her better.
Q. When did you know you wanted to be a physician?
A. My grandfather was a family practice physician in Miami for 40 years. As a child, I would go with him to his office and on rounds with him at the hospital. By the age of five or six, I knew I wanted to be a physician, too.
Q. How did you pick your specialty?
A. I grew up in Fort Wayne, Ind. where I competed in gymnastics. This sport is known to cause a lot of orthopedic injuries, so I spent a fair amount of time in orthopedics offices. I got familiar with the surgeons in Fort Wayne and started to become interested in the profession. Once I was in medical school, I did a rotation in surgery—and I loved it. My next rotation was in orthopedics, where I got to watch a total hip replacement. I thought it was the coolest thing I had ever seen, and I was sold. When it came time to pick my fellowship, I was drawn to upper extremity because of the diverse range of patients we see. I treat every age, from young children to elderly adults. With hands, there are so many new implants and techniques for surgery. It is an exciting specialty to be in.
Q. You speak fluent Spanish—can you tell us more about how you gained that skill?
A. My mom is Cuban, and she moved to the United States when she was a little girl. I learned a little bit of Spanish growing up but became fluent when I studied in Spain for a couple months during college. I also did my hand and microvascular surgery fellowship at the University of Miami, and I lived in Miami for 10 years. In Miami there are a lot of different cultural populations who speak Spanish, so it was great practice for me.
Q. What made you want to work at Riverview Health?
A. I live in Carmel, and my kids all play soccer with Indiana Fire at Grand Park, so I pretty much pass Riverview Health in Westfield every single day. I feel strongly that physicians should serve their community, and I wanted to work in the community where I live. When the opportunity with Riverview Health came up, I was thrilled. When I see patients, I know they are my neighbors, my soccer family or my friends. I also love the collective feel of being part of a system. Knowing the other specialists allows me to refer easily and better serve my patients.
Q. How have your patients changed your life?
A. I think one of my favorite parts about being a physician is learning about all the lines of work my patients do. Are they lifting heavy things? Driving for long periods of time? Sewing? My patients have changed the way I see the world, and I've had the privilege of learning about so many different occupations, passions and hobbies because of them. It makes me appreciate the diversity we have as a community and the way patients use their hands and talents.
Q. What do you like to do in your free time?
A. My sport is running. I also go to all my kids' soccer games as a spectator. I love to travel, and we try to show our kids different parts of the country on trips. I enjoy cooking different types of food, whether it be Indian, Hispanic, Asian—you name it. I also have a huge vegetable garden, which I love.
To schedule an appointment with Dr. Williams, call 317.770.3777 or visit riverview.org.