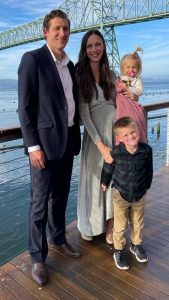 Meet Trenton Schmale, DO. Dr. Schmale joined the Riverview Health team in 2021 as a family and sports medicine physician at Sheridan Family Medicine. Dr. Trenton Schmale strives to be an advocate for his patients while helping them navigate their healthcare every step of the way. Dr. Schmale treats all ages and focuses on preventive medicine as well as managing ongoing health problems.
As a new member of the team, we asked Dr. Schmale a few questions to get to know him better.
Q. What other career paths did you consider before becoming a DO?
A. Early on, being a professional football player was at the top of my list. I was also interested in becoming a paleontologist or an archeologist. I was always interested in science, so during junior high and high school I figured I would pursue a profession in a scientific field. By the end of high school, I knew I wanted to be a physician.
Q. How did you pick your specialty?
A. I've always wanted to build long-lasting relationships with my patients and treat a variety of health issues in my practice, so family medicine seemed like a natural fit for me. I've also been an athlete most of my life and it is a big part of who I am. Being board-certified in sports medicine as well as family medicine is a way for me to stay involved in sports on a regular basis. It also allows me to make a difference in the lives of athletes of all ages as they pursue their goals.
Q. What is the difference between a DO and an MD?
A. I would say DOs and MDs are similar in how we practice medicine in most ways. However, the major difference is during medical school DOs spend extra time focusing on osteopathy. Osteopathy is a philosophy of medicine which involves looking at all aspects of the patient—mind, body and spirit. We also learn osteopathic manipulative therapy (OMT). OMT can be compared to what a chiropractor or physical therapist does. OMT is an extra tool DOs can use to help our patients, if desired.
Q. What is your goal as a physician?
A. My focus is to help my patients reach their goals in life. However, there may side objectives we need to accomplish before we can achieve their goals. Sometimes goals need to be identified, and sometimes goals need to be changed. But once the goals are set, it allows me to better understand how I can help my patients.
Q. What makes you unique as a provider?
A. I try to be very down-to-earth with my patients. I'm not paternalistic, but I will give patients my honest opinion. I also like to work collaboratively with my patients and build a treatment plan together.
Q. How have your patients influenced your life?
A. Since starting at Riverview Health I've met many great patients/individuals. They are excited to meet me, make sure I am adjusting well and genuinely care about how I am as an individual. They have made my job fulfilling and I am grateful I chose to practice at Sheridan Family Medicine.
Q. Who is your biggest hero?
A. My parents are my biggest heroes. If it was not for their own strong work ethic and their support for whatever I pursued, I would not be where I am today.
Q. When you aren't seeing patients, what do you like to do for fun?
A. Outside of medicine, I enjoy spending time with my family, working on our farm, and playing board and card games. I also love staying active outdoors by hiking, skiing, camping and playing football, baseball, golf, basketball and soccer with my son.
Q. What is your favorite movie?
A. "Good Will Hunting."
Q. What is your favorite book?
A. "Atlas Shrugged" by Ayn Rand. Who is John Galt?
Q. What is your favorite genre of music or band?
A. I like most genres of music. I tend to have phases and I will binge a certain genre of music for a month or so. But my favorite band is Disturbed.
To schedule an appointment with Dr. Schmale, call 317.758.4477