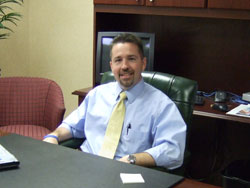 March is Colorectal Cancer Awareness Month. In recognition, we offer some useful information regarding the importance of prevention.
Colonoscopy is one of the least common screening exams sought by patients. The reasons range from the physician not mentioning it to fear of pain and discomfort both during the procedure and in the preparation for the procedure.
William Fecht, MD, a board certified gastroenterologist on staff at Riverview Hospital, says that the benefits of colonoscopy far outweigh any fears about pain or discomfort.  "A colonoscopy allows me to diagnose and sometimes immediately remove polyps or lesions during the same exam," said Fecht.  "There really is no other screening tool that offers such a wide range of diagnostic and treatment options."
Among the issues identified and sometimes treated during a colonoscopy are:
Polyps
Colon cancer
Diverticulitis
Hemorrhoids
Irritable bowel syndrome
Bleeding and abdominal pain
"The preparation for a colonoscopy is often what frightens patients the most," he said.  The bowel must be cleared before the procedure requiring patients to take laxatives to stimulate diarrhea for several hours the day before the exam. However, Dr. Fecht will recommend laxatives such as Miralax that greatly reduce cramping and discomfort during this cleanse.
The procedure itself is nearly painless.  Patients are given a light anesthetic and are kept in a drowsy, but comfortable state.  The medications typically ensure that the patient has no memory of the procedure at all.
Most men and women should have their first colonoscopy around the age of 50.  Then, barring any findings or family history, once a decade is sufficient.
William Fecht, Jr., MD is a Gastroenterologist at Riverview Hospital. He is Board Certified in internal medicine, gastroenterology and hepatology. To make an appointment with Dr. Fecht or to speak to a member of his staff, call (317) 872-1611 or visit www.indianagastro.com.