By Brittany Nelson, MS, RD, CHWC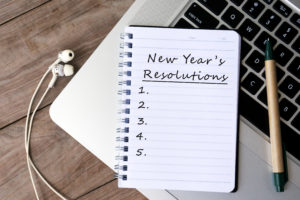 With the start of each New Year we each will undoubtedly begin thinking about New Year's resolutions. Whether you are enthusiastically setting out to become a healthier you or kicking yourself for failing on last year's resolutions – you've thought about it. Setting a personal goal is great, but unfortunately what many New Year's resolutions have in common is that they are unrealistic—and more often than not—unobtainable. So, before you set your New Year's goal for this year, check out the following steps to help the "New Year, New You" actually stick this time—and to help you avoid the year-end guilt of resolution failure.
Find your reason why. Simon Sinek's best seller "Start With Why" does a great job of explaining why knowing the reason you set a goal is important to its success. In Sinek's book, he explains why individuals (and organizations) should always start with why they want to make a change or why they do what they do every day. Understanding "why" you want to set a New Year's goal is the first step to sticking with it.
Envision yourself completing your goal. If your goal is to exercise more in 2019, envision yourself doing so. (Envision doing it forever while you're at it.) Answer questions like, "When will I exercise?" "Where will I exercise?" "How and what exercise do I enjoy doing?" Knowing these answers can help you start thinking long-term.
Identify barriers or challenges. If you fail to plan, you can plan to fail. In order to develop a new habit, planning for pitfalls and challenges is important. Contemplating how you will overcome barriers allows you to develop solutions before the problem ever arises, setting you up for success.
Break up large goals into smaller ones. Our New Year's resolutions are often too big, causing us to quickly get discouraged and quit. To help from becoming overwhelmed, break up a larger goal into monthly goals to accomplish things in smaller chunks. This will help you feel more confident and motivated to stay at it, because the finish line is actually in sight. It may be helpful to even take a step further and break up your goals into weekly ones. Make a checklist and keep your goals specific and measurable.
Enjoy your goal. Don't make a resolution for anyone except yourself. If you want to set a goal to eat more fruits and veggies this year, make sure you do so because it is truly what you want to do. Focus on who you want to be, and what you want to achieve. The goal has to be yours and yours alone in order for you to stay motivated!