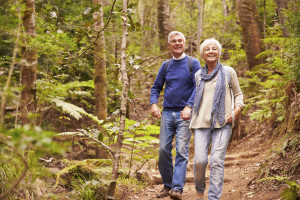 By Jennifer Carr, BSN, MA
If you or a loved one has been diagnosed with chronic obstructive pulmonary disease (COPD), you're not alone. COPD affects more than 15 million Americans according to the Centers for Disease Control and Prevention.
COPD is a term for a group of conditions that causes breathing problems which include but are not limited to emphysema and chronic bronchitis. Emphysema damages the walls between the air sacs in the lungs. This reduces the volume of gas the lungs can hold. Chronic bronchitis causes the lining of the airway to become irritated and inflamed, prompting the body to produce more mucus and making it harder to breathe.
COPD is a progressive disease, meaning it gets worse over time. However, there are some therapies and lifestyle adjustments that can help you improve your quality of life and help manage your COPD.
Riverview Health offers a comprehensive Pulmonary Rehabilitation program that's certified by the American Association of Cardiovascular and Pulmonary Rehabilitation and overseen by a board certified pulmonologist. The staff is comprised of registered nurses and respiratory therapists who are certified in Advanced Cardiac Life Support.
Pulmonary rehabilitation is an individually tailored program that encompasses disease management, exercise therapy, breathing retraining and education. Some example goals of pulmonary rehabilitation include reducing symptoms, enhancing one's ability to perform activities of daily living, improving stamina and endurance, and reducing hospitalizations.
To learn more about participating in pulmonary rehabilitation at Riverview Health or at the Hazel Dell location call 317-776-7377.