By Joseph Geyer, MD
Riverview Health Physicians OB/GYN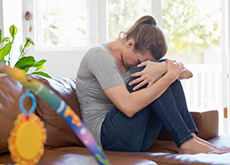 If you or a loved one are a new Mom, here's how to tell if feeling down is caused by postpartum depression, a condition far more serious than "baby blues."
First, know that all women go through enormous biological changes after childbirth since hormones (estrogen and progesterone) in the body drop very quickly. This leads to chemical changes in the brain that can cause new moms to feel sad, anxious and/or overwhelmed. Some women lose their appetite or have trouble sleeping, even when the baby is sleeping.
What's "normal" and what's not?
In general, the symptoms of postpartum depression last longer—and are much more severe. "Baby blues" which affect up to 80 percent of moms are more mild and generally fade away within a couple weeks after birth.
In contrast, women with postpartum depression may feel hopeless and have a very difficult time developing a bond with the baby. Other symptoms may include:
Anger or rage
Withdrawing from family and friends
Constantly doubting her ability to care for the baby
Thoughts of harming herself or the baby and/or hallucinations
IMPORTANT: A woman who experiences ANY of these symptoms should immediately see a healthcare provider who can assess whether she needs treatment for postpartum depression.
Some other facts: Postpartum depression can happen at any time within the first year of
childbirth and affects any woman regardless of age, race or economic status. The exact cause is not known, but some women may be at greater risk, including those who:
have previous experience with depression or bipolar disorder
experience complications during childbirth, including premature delivery
lack strong emotional support from a partner, family or friends
The good news is that there is treatment available that ranges from counseling and talk therapy to medications that help the brain chemicals involved in mood regulation.
Riverview Health offers a Postpartum Anxiety and Depression support group, which offers a supportive, understanding and non-judgmental environment where women can encourage and help each other adjust to the changes in their lives.
The most important step is diagnosing postpartum depression. If you're in the least bit in doubt, reach out now to a healthcare provider who has the knowledge, experience—and compassion—to give you the advice and treatment you need.
---