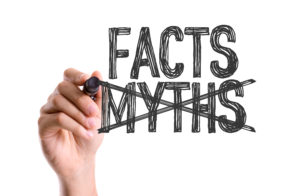 By Ryan Lawson, exercise specialist
Technology has made a wealth of information accessible at our fingertips. Most of the time this is great, but at times it can be a little overwhelming. Too much information can make it difficult to distinguish fact from fiction.
In the health and fitness field, research is constantly evolving to help guide us toward a fit and healthy lifestyle. Unfortunately, despite all the information out there, myths still linger. Lets examine a few:
If I lift weights, I'll bulk up
Technically this isn't entirely a myth, but what is crucial is the amount of weight you are lifting, the repetitions, recovery and your nutrition. Each of these variables determines how the muscles respond to strength training. If you are looking for a toned, lean look, lifting lighter weights at higher repetitions (say 12 to 20 reps) will help achieve this. However, lifting light weights at high repetitions will not bulk up your muscles. Heavier weights = bigger muscles.
I only need to do cardio if I want to lose weight.
While cardio is an important component of a well-rounded fitness routine, it is not the only aspect. Weights help maintain muscle mass, which in turn increases your metabolism and burns more calories throughout the day. Lifting weights has also been shown to maintain and improve the strength of the bones. Integrating cardio, strength training and stretching is paramount to any fitness program.
You will lose stomach fat if you do crunches
Unfortunately, fat loss doesn't work this way. You can't pick and choose the spots where you lose fat. Abs, or the core in general, is sometimes referred to as the powerhouse, because it is the glue that holds all movements together. Ab workouts are fundamental, but just working one body part will not lead to fat loss in that specific area.
When you work out, you turn fat into muscle
When you exercise, you build up muscle while also burning calories. Therefore, when you work out, you increase your lean muscle mass and decrease your fat mass. The fat stored in your body is burned off as energy, not converted into muscle. Working out leads to many positive benefits, one of which is the increase in muscle mass, which, in turn, lowers your body fat percentage.