By Brittany Nelson, RD, CHWC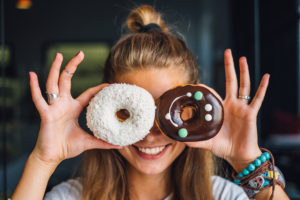 As we make our way into the holiday season, those of us who have been working to have a healthier lifestyle may be cringing a little. Why? Because the holidays are usually full of sweets and other unhealthy foods to tempt us. Often, patients will come to me at this time of the year and say, "I may cheat a little bit and be bad during the holiday months." But is that really what you are doing?
The definition of "cheating" is acting dishonestly or unfairly in order to gain an advantage. "Bad" means something inadequate or inferior in quality. Now, when people say these words in conjunction to the foods they eat ("bad food," "cheat days") I don't think they mean that they are being dishonest with themselves, or that they are inadequate. I think what they are really doing is "treating" themselves, which is something positive!
Thinking or saying you are "cheating" after you've been working diligently to make healthy choices can leave you feeling guilty, or worse, like a failure. Often this negativity will breed more negativity—allowing one small lapse at a holiday party to become a complete relapse into old eating and exercise habits the rest of the year.
Therefore, this holiday season; be proud of yourself for all of the healthy changes you have made throughout the year. These changes can continue during the holidays, even if there is a day you can't exercise or if you enjoy a couple treats at a holiday party. These "treats" are fine in moderation, and something you should enjoy. Get back to your healthy habits the next day (or even later that day) to continue being motivated to become a healthier you. And always remember, the less we have treats, the more we enjoy them when we do!