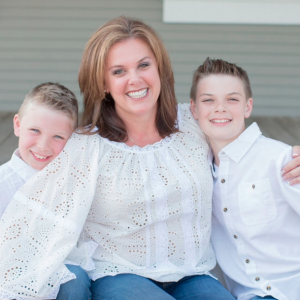 Ten years ago, Westfield resident Jennifer Fero looked similar to most busy moms: she was balancing a full-time job, taking care of her son, managing a household and helping care for an ill family member. There was no wonder why she felt tired all the time. Her skin and hair were dry, and her nails were brittle. Maybe she was just run-down, she thought.
"I've exercised religiously my whole life, and I eat fairly healthy, so I thought I was taking good care of myself," Jennifer said. "These symptoms could have been associated with anything, so I just brushed it off."
But when Jennifer had routine blood tests done when she was pregnant with her second son, she found out she wasn't just run-down—there was a reason for her symptoms: hypothyroidism.
"I've always relied on my OB/GYN for annual check-ups and only saw a doctor if I was sick, so I had no idea what to do when I was told I had hypothyroidism," she remembered. "But my OB/GYN referred me to Riverview Health and Noblesville Diabetes & Endocrinology because she insisted the specialists there were the absolute best."
Jennifer made an appointment with Dr. Lori Brame, an endocrinologist at Noblesville Diabetes & Endocrinology, a Riverview Health Physicians location.
"I wasn't sure what to expect during my first appointment, because I'd never seen a specialist other than my OB/GYN," Jennifer said. "I try to be really good at articulating what's going wrong. I did some research so I could be somewhat prepared when I walked into her office."
Dr. Brame confirmed Jennifer's diagnosis of hypothyroidism and began talking about treatment options with daily medication.
Hypothyroidism is often an autoimmune disorder and is usually treated by oral medications. There are several medications to treat this condition, and different people require different dosages, so it takes some monitoring to find a treatment that works best for each person, according to Dr. Brame.
Dr. Brame often hears people recite a myth that hyperthyroidism occurs in those who are thin and hypothyroidism occurs in those who are overweight—but that just isn't true. Hyper- and hypothyroidism can be seen in people of any weight, and it occurs in men as well as women.
"Several things can affect your thyroid levels," Dr. Brame said. "There are a lot of symptoms that can be misinterpreted as thyroid problems when they're actually from something else, so it is important to confirm the diagnosis with blood tests."
Common symptoms of hypothyroidism can be somewhat vague and include fatigue, muscle pain, sudden weight gain, headaches, depression, difficulty with concentration or memory, and dry hair and skin.
After giving birth to her son, Jennifer's thyroid levels were monitored, and doses were adjusted until a sweet spot was found. But then she started having joint pain and intestinal problems, and she gained about 40 pounds—despite working out and eating healthy meals.
"It was like I hit my 40s and all of a sudden my body just started to break," Jennifer recalled. "I was told by my primary care physician that the joint pain was due to my weight gain, but something just didn't seem to add up."
Soon after changing her dosage to her thyroid medication, Jennifer's joint pain completely disappeared, and she felt much better. But one thing wasn't changing—her weight.
"Dr. Brame said she was going to have to have a hard conversation with me," Jennifer remembered. "She said because of my body mass index, I was technically considered obese, which could open me up for other health problems such as diabetes."
It didn't seem right, Jennifer thought, because she was working out all the time and had made improvements to her already healthy diet. So in the spring of 2017, Dr. Brame prescribed a medication to help kick-start Jennifer's weight loss and put her on a schedule to slowly wean her off.
"My body had stopped working, so diet and exercise wouldn't work without a doctor's help," Jennifer said. "For the first time, I allowed myself to be vulnerable."
Jennifer hopes others can learn from her story that they should listen to their body.
"For all those women out there who have issues and have been to doctors—don't give up," Jennifer said. "Our bodies do change. You just have to keep going until you find the answer."