As Susan Beckwith works out, she sports a shirt that reminds her of her motivation: "Working off the best pounds ever gained. #BabyWeight," it says. After years of infertility and trying to conceive, Susan and her husband were finally blessed with a healthy baby boy in early 2017.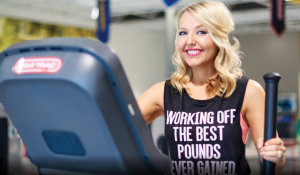 "After waiting for this for so long, pregnancy was a dream come true," Susan said. "Every pound was worth it."
But as a result of fertility treatments and pregnancy, Susan gained nearly 50 pounds.
"After giving birth, I was ready to get back to a healthier place," Susan said.
Once she was ready to work out, Susan quickly lost 19 pounds, but then plateaued.
"I needed help because I didn't want to just lose the rest of the baby weight," Susan said. "I also wanted to gain strength and improve my overall health and wellness."
So, Susan looked to the Body Knowledge program at Riverview Health to help her meet her goals and learn skills that would help her stay healthy in the future.
The Body Knowledge program at Riverview Health is more than just a diet and exercise plan. The program uses a BOD POD, which is the gold standard for tracking body composition. The BOD POD uses air-displacement technology to determine how much fat and fat-free mass is in the body. It also provides an estimated resting metabolic rate and total energy expenditure—or daily calorie needs—based on an individual's total body composition.
After Susan's initial BOD POD assessment, Brittany Nelson, a registered dietitian with Riverview Health, designed a nutrition program that was tailored to Susan's individual calorie needs and metabolism.
The program also included weekly meetings with a certified health and wellness coach that covered topics like nutrition, exercise, stress, time management and more.
"During her 16-week program, we conducted nine BOD POD assessments so we could measure her precise body composition changes," Brittany said. "Susan's results showed me that she was losing weight the right way— by dropping fat and increasing muscle. That's something I couldn't measure by just looking at her changes in body mass index."
Throughout her 16-week Body Knowledge program, Susan lost an additional 27 pounds and shed 12 percent of her body fat. But most importantly, Susan learned health and wellness skills that she can continue throughout her life—and teach to her son, one day.