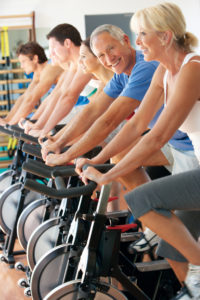 By Brittany Nelson, MS, RD, CHWC
At the end of the year, it's time to reflect on the fitness and health goals you set last January. Can you remember your motivation in January 2016 to obtain a gym membership and begin exercising every day? Not having accountability, support or mini goals in place makes obtaining your larger fitness objective unachievable. Also, paying for a gym membership and not feeling like you used it efficiently can be demotivating. While reflecting on previous years, it may be helpful to understand what went well and what didn't. What did you like to do at the gym or exercise facility? Why could you not continue this type of exercise throughout the year?
Reflecting on the past and what did and didn't work is helpful when thinking about correcting the future and setting your 2017 fitness goals. If you want to increase your exercise, try thinking about physical activity in general. What type of activities do you enjoy? What solutions to your 2016 challenges could you brainstorm in order to be successful? Often, organizations also have benefits that allow employees to receive discounts for fitness and gym memberships. Do you know your benefits? If your organization doesn't have a gym benefit, have you spoken to your human resources department or your supervisor about looking into a discount to your favorite fitness class or exercise facility? Answering these questions, developing checkpoint goals throughout the year and planning specific steps along the way will help you achieve a more active 2017.