By Brittany Nelson, MS,  RD, CHWC
The importance of walking is sometimes overlooked because of other high-intensity exercises that are popular. But whether it's for weight loss or just toning your muscles, physical activity at any level can benefit your overall health and wellbeing.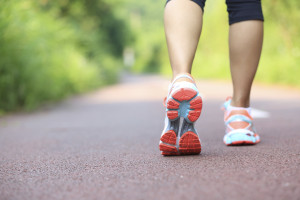 Anything is better than nothing—remember that when thinking about incorporating some additional activity into your day. Walking has been shown to be effective at improving heart health and blood sugar control. That being said, walking actually provides many of the same health benefits as running, and there's a lower risk for injuries when walking.
Running can sometimes be hard on the body or put stress on your bones and joints. One study showed that walking on a treadmill with a six-degree incline at a slow speed of 1.5 mph was an effective weight management strategy for individuals who are obese. When you start a walking routine, be sure to set a brisk pace that gradually gets faster to increase your heart rate. Walking with hand weights can also help burn additional calories.
No matter if you're running or walking, be sure to incorporate a proper warm-up and cool-down into your routine. By stretching before and after exercising, you can help prevent injuries.