By Amy Chandler, Exercise Specialist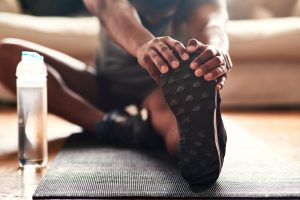 Are you continuing to make time to exercise while you're at home? During quarantine, it's easy to sit back and relax, but it's important to get your body moving. Make sure you take at least 20-30 minutes each day to exercise. Here are a few ideas:
Enjoy the nice weather by taking a walk around the neighborhood or on a trail. Be sure to continue social distancing while you are out.
If you have stairs in your home, take trips up and down to get your heart rate up.
Get creative with your weights. Grab some canned goods to use as dumbbells. Do bicep curls, overhead presses and tricep kickbacks.
Do sit to stand lifts on a chair to work your lower body.
Do planks on a chair or a table. Make sure to pull your belly button up!
Do push-ups on the wall or on the floor.
Lay on the bed or the floor and do hip bridges.
Once every hour, get up a take a lap around the house.
Keep limber and stretch after any activity.
Get creative and keep moving!