By Ryan Lawson, Exercise Specialist
Learning to cope during COVID-19 can be difficult, especially when our daily routines are disrupted. As the weeks go by, it may seem like the stress that goes along with these changes grows. Exercise can play a huge role in improving your mood, so here are some simple techniques you can use to reduce stress.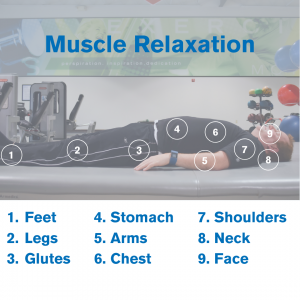 Muscle Relaxation: This involves tensing specific muscles, or muscle groups, and then relaxing them. Doing this allows you to develop an awareness of the difference between tense and relaxed muscles. This technique also has the added benefit of allowing you to identify where your tension is when you're stressed.
For this technique, you will need a quiet place to lie down. It will take 10 to 15 minutes and can be completed as frequently as once a day.
Start at your feet and move up to your head (see the corresponding image for muscle order). Focus on tensing a single muscle or muscle groups. Target an area and start with a slow, deep breath lasting four to five seconds and then exhale for five to 10 seconds, making sure to tense the muscles when exhaling.
The muscle groups you will want to focus on are the feet, legs, glutes, stomach, arms, chest, shoulders, neck and face.
After completing the technique on one muscle, you will then relax for 10 to 20 seconds, breathing normally, before moving on to the next target area.
Make sure not to tense too hard. If you are feeling pain or cramping, then you are tightening too much.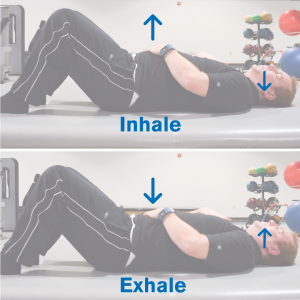 Equalized Breathing: This simple breathing technique can be done throughout the day to help you relax. It can be done lying down, seated or even standing. You will focus on elongating each breath to create a focus on both your inhale and exhale. You will inhale for five seconds and exhale for five seconds. This is also a great technique to use while you go for a walk. For example, focus on inhaling for five steps and then exhaling for five steps.
Abdominal Breathing: This technique can be done either lying down (preferred) or seated. The focus should be on using your abs and engaging your diaphragm to take deep breaths.
Once you are in position, place one hand on your belly and the other on your chest. As you inhale, push your stomach out as far as you can (you should feel your lower hand moving), making sure not to move your chest at all (your upper hand should remain stationary). As you exhale, you should feel your belly fall and return to its original position.
Just like the previous techniques, you should focus on elongating and equalizing your breathing—inhaling for four to five seconds and exhaling for an equal amount of time. It is best to complete one to two deep breaths this way and then to take three to four normal breaths. Start out doing this for 5 minutes or so and gradually build up to longer amounts of time as you get more comfortable.