By Ryan Lawson & Shawna Reed, Exercise Specialists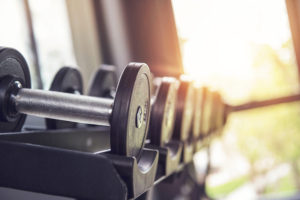 Resistance training is an integral part of a well-rounded exercise routine, especially as we age. It improves strength, bone density and endurance. However, what many people don't realize is the importance of how fast you perform this exercise in relation to its effectiveness. In order to get the most out of resistance training, it is crucial to move the weights in a slow, and controlled manner—not fast and uncontrollably.
There are two basic motions when lifting; the first is called the concentric phase, or more simply put, the lifting phase. The second is the eccentric phase, or the lowering phase. During the concentric phase the muscle shortens and contracts. During the eccentric phase the muscle lengthens. Both phases cause muscle cell damage. But don't worry; this damage isn't a bad thing. Cell damage naturally occurs when we lift weights. Our muscle cells break down and are built back up stronger during the repair process.
The best way to make our muscles work/contract for longer periods of time is to lift with a slow, controlled tempo. If you go fast and slam the weights you not only lose the full benefit from the lift, but you are also putting yourself at a higher risk for injury. This is because the momentum ends up doing more of the work than your muscles.
It is important that your muscles are contracting during the whole exercise, both during the concentric and eccentric movements. It should take approximately five seconds to correctly complete each repetition. The concentric phase of each exercise should take two seconds. Once you come to a complete stop at the end of your range of motion, hold it for a second. It should then take another two seconds to complete the eccentric phase. If you are still struggling and need guidance, please consult an exercise specialist.