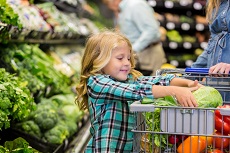 By Eric Marcotte, MD, Riverview Health Physicians—Sheridan Family Medicine
With summer comes warm weather, sunny days and long evenings—what's not to love? One great thing about summer is the availability of fresh fruits and vegetables. In the winter, it can sometimes be expensive to feed a family with healthy choices. Many times frozen or canned goods are our only option, which isn't always ideal. But in the summer, fruits and vegetables are fresh and cheap, making it easier to include in our everyday diets.
Experts recommend five servings of fruits and vegetables every day because of their bountiful amounts of fiber, vitamins and minerals. When buying fresh produce, be sure to keep in mind these tips from foodsafety.gov:
Examine your produce carefully before you buy it—don't buy anything that's bruised or damaged.
Use different bags to separate fresh produces from meat, poultry and seafood.
If you're buying fruits or vegetables that have already been cut, choose only ones that are kept cold by a refrigerator or ice. Be sure to store them in the refrigerator when you get home.
Remember, fresh is best, frozen is fine and canned is OK. Juice and dried fruits have much more sugar and shouldn't be a regular part of anyone's diet. Enjoy the weather and your fruits and veggies!