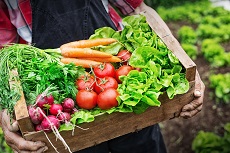 By Brittany Wonnell, MS, RD
Many of us believe eating healthy is hard to do on a budget. Depending on the time of year, certain produce items are cheaper and more readily available than others. As grocery stores or your local farmers markets get an influx of produce, they may put some on sale to try to sell their inventory before the produce goes bad. By knowing what fruits and vegetables are in season, you can increase your chance of getting a better deal and eating fresh food without emptying your wallet. Here's a helpful list of summer produce items:
Apricots
Asian pears
Bell peppers
Blackberries
Blueberries
Cantaloupe
Cherries
Corn
Eggplant
Figs
Garlic
Grapes
Grapefruits
Grape tomatoes
Green beans
Honeydew melon
Jalapeno peppers
Lima beans
Limes
Nectarines
Peaches
Peas
Plums
Radishes
Raspberries
Strawberries
Tomatoes
Watermelon
Yukon Gold Potatoes
Zucchini
While produce is cheap, try freezing it so you can have it later in the year when it's more expensive. And don't forget to support your local farmers by buying your groceries at a farmers market.