By Brittany Nelson, RD, CHWC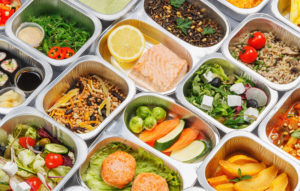 If you've ever thought about making some type of change to your health, chances are you've thought about planning and prepping meals ahead of time. Whether you get ideas from Pinterest, other social media or from talking to your friends, it's important to understand there isn't one single way to prep your meals. You can meal prep a month ahead, a week ahead or a day ahead. You can meal prep fruits, veggies, whole grains and lean meat or you can meal prep homemade pizza, burgers and potato fries (please don't eat that every day). You can use individual containers, frozen one-pot meals or crockpots. The point is, meal prepping shouldn't be a one-size-fits-all approach and shouldn't be an "all-or-nothing" practice.
Check out the steps below to learn how to find the best meal planning method for you and your family.
Step 1: Understand and prioritize your time while understanding your time blocks.
Before meal planning for the week ahead, we need to plan activities for the week ahead. Think about what you and your family have going on and compartmentalize tasks to help you free up time for meal prepping. Remember to think of both short-term priorities (organizing the busy week ahead) and long-term priorities (your and your family's health).
Step 2: Brainstorm what type of meal planning will be best for you.
Is setting aside time on Sundays enough to brainstorm for the week ahead and begin planning or prepping meals? When does grocery shopping and prepping foods (cutting fruit and veggies, cooking meat) usually occur in your household? Can any of your family members help? Will you enjoy planning, grocery shopping, slicing up veggies and cooking meat all in one day?
Step 3: Know how many meals you'll need to accurately plan for the week.
No one likes wasting food, and no one likes running out of meals. Plan your week ahead based on what you're confident and willing to prepare and consume for the week ahead.
Step 4: Get creative with your meals.
Many of my nutritional counseling patients will show me pictures of their chicken, brown rice and broccoli weekly meal containers, and while I'm proud of their healthy food choices, I also think, "that's going to get old quickly," which may make it hard to stick to a healthy eating plan. Don't be afraid to try new recipes. You may fail at times, but trying recipe alternatives or new ways of cooking will lead to better results. If you've tried a healthy dish while out to eat, try to think about how you could make that dish at home.
Step 5: Have some fun!
If you dread meal planning and prepping, it's not going to stick. Think about how you can make it more enjoyable. Maybe it's including your family in some of the planning, or maybe it's as simple as catching up on your favorite TV show in the background. Whatever you decide to do to, make meal planning a part of your and your family's healthy routine and enjoy yourself!
Learn more about meal planning by scheduling an appointment for a one-on-one nutritional counseling program with our registered dietitian >>