By Kristin Lamb, CHWC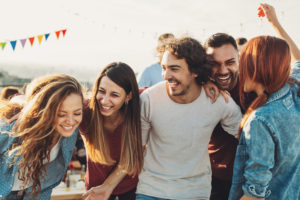 As children, we were told to choose our friends wisely because those we associate with influence our actions. But there is more to it—our social interactions or lack thereof affect our health and well-being. Gallup research shows that socializing six hours per day is key for happiness and reduces stress. Here is a list of what contributes to your social health and wellness:
Social equality: If your social well-being is strong, those around you benefit as well.
Being embedded in community: Examples include giving back to your current community or hometown or supporting your college or the place where you plan to retire.
Quality vs. quantity: Engagement in a few strong relationships.
Having both perceived and active social support: Be conscious about whom you invite versus who shows up.
Time for social interactions: Six hours per day is recommended. This includes work, home, phone, email and other communication.
Riverview Health employees recently participated in a social well-being workshop hosted by the Employee Wellness team. Below you will find some of the highlights of the program. We encourage you to work through some of these points.
Social Capital
Social capital is the network of relationships among people who live and work in a society, which enable that society to function effectively. These relationships are marked by reciprocity, trust, connectedness, family ties, friendships, and participation in social events and affiliations. Our social well-being is largely based on our social capital and therefore could be viewed as equally important as our bank account—so take stock and create a ledger. Start writing down names of people or groups of people who've "got your back."
Exploring and strengthening
Pick three relationships you would like to strengthen and note three ways you can support growth with each relationship. You're encouraged to include with your social plans at least one physical activity, such as walking in a park.
Caring for the caregiver
We're all caregivers in some capacity. We may be giving our all to the loved ones in our lives, like children, parents, spouses, friends or neighbors, yet neglect ourselves. We must practice self-care in order to be able to continue caring for others. Be sure to schedule your own appointments, make sleep and exercise a priority and get the nutrition your body needs.
Time management
To have a well-balanced life, we must use our time wisely. This includes guarding our time like the valuable asset it is. Time management is unique to each individual. When done well, time management can significantly improve our lives. We all have 24 hours in a day, with different responsibilities and demands. However, the personal responsibility we have for our health and well-being should be a top priority. Our priorities help us decide on our routines and what we make time for in our lives every day. List how your time is spent on a daily and weekly basis and then list how to spend it moving forward.
 Need some more encouragement? Learn more and sign up for an appointment with one of our certified health and wellness coaches >>