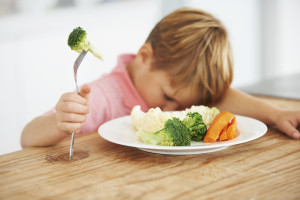 By Emily Ruden, MD
Cardiologist at Riverview Health
There's no doubt that getting your kids to eat healthy can be a challenge. But setting a good example from a young age can not only shape their eating habits for later in life, but it can set them up for excellent heart health as an adult.
As a cardiologist, I see the effects of years of poor eating and exercising habits. According to the Centers for Disease Control and Prevention (CDC), about 17 percent of children and adolescents are obese. In addition, children who are obese during childhood are more likely to be obese in adulthood.
Being overweight increases your risk for diabetes and heart disease, which is the leading cause of death, according to the CDC. Blocked arteries and heart disease don't develop overnight. So start your kids on the right path early in life by helping them learn how to eat healthy.
The most important thing you can do when teaching your kids to eat healthy is to model the behavior by making sure you don't just talk the talk, but you walk the walk. Your children can't be expected to eat a plate full of vegetables if they don't see any on your plate. As we grow older, our taste buds change. But if you weren't a vegetable fan as a child and still struggle with meeting your daily vegetable needs, try some alternative cooking methods. Instead of boiling or steaming vegetables, try roasting them in the oven or grilling them. If you can't stand mushy textures, try blanching the vegetables or taking them off the heat while they're still a little crunchy.
My two preschool-aged kids have come to expect a vegetable every night at dinner. When using divided kids' plates, instead of placing the protein in the large section— like many of us learned as kids—you should really use that space for vegetables. As for drinks, water and milk are the best options. Fruit juice really has no nutritional value and is often packed with unnecessary sugar. When it comes to dessert, it's not a given at my house. My kids have to finish all or most of their vegetables before they can have dessert. But I don't let them gorge on cake and ice cream—it's important to have healthy dessert options such as applesauce with cinnamon.
When teaching your kids the nutritional value of food, the important thing to focus on is the fact that healthy food will help make their body and brain bigger and smarter. I think children as young as four can understand the differences between the food groups of grains, vegetables, fruits, proteins and dairy. So start teaching them at a young age what healthy and unhealthy foods are to ensure a bright future for them.