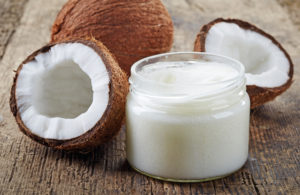 By Brittany Nelson, RD, CHWC
Over the past few years, the coconut oil craze has taken off, which has provided a wide array of health information to consumers. With so much buzz, it's hard to know what to believe. You've heard about all the perceived health benefits of coconut oil—such as decreasing your risk for heart disease, diabetes and obesity—while other information contradicts that by stating coconut oil is a saturated fat, thus increasing bad cholesterol in the body, putting you at higher risk for heart disease and obesity.
So what should you believe? Luckily, when looking at current evidence-based research studies, the following information and recommendations for coconut oil can become less confusing.
It is true that coconut oil is a saturated fat?
Saturated fats are solid (not liquid) at room temperature and have been shown to increase the risk of elevated LDL (bad) cholesterol. Studies have shown that coconut oil, which is 90 percent saturated fat, has properties that may increase LDL (bad) cholesterol while also increasing your HDL (good) cholesterol.
Tell me more.
Coconut oil has different fatty acids that are processed differently in the body than other food items containing saturated fat. Coconut oil breaks down to produce lauric and myristic acids, which have properties that help increase HDL (good) cholesterol. However, there has been no evidence that shows that increasing your consumption of coconut oil will reduce your risk of heart disease.
On the contrary, oils made up of mono- and polyunsaturated fats, such as olive and canola oils, have been shown through years of research to reduce risk of heart disease.
So should I avoid coconut oil?
The short answer—not necessarily. Many people enjoy the taste of this product. But like most foods containing high amounts of fat, it's important to consume only 20-35 percent of fat in your overall daily calorie consumption. This can include coconut oil occasionally, but it should also come from mono- and polyunsaturated fats.