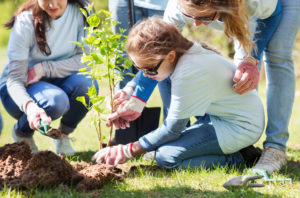 By Kristin Lamb, CHWC
We're fortunate to live in a great community. Hamilton County and its cities are consistently ranked as some of the top places to raise a family. Hamilton County holds some of the top-ranked school systems in Indiana and has also been ranked the healthiest county in the state. But before you congratulate yourself too much, it's important to remember Hamilton County also has a population in need and areas that could use a helping hand.
In order to maximize the benefits of our community, we must be active and engaged. Here are some ways to grow yourself and your community:
Participate in outreach programs (community clean-up, food bank donations or youth mentoring).
Attend and support local events (Noblesville Mini Marathon or movies in the park).
Donate your money, your time or—your blood—to help others. Riverview Health is having a blood drive on June 6, 2017 from 2-5 p.m. Learn more >>
Report items in need of attention (potholes, streetlights, damaged property, etc.).
See Something, Say Something. This is a national campaign by the U.S. Department of Homeland Security that is supported by local law enforcement. Informed, alert communities play a critical role in keeping our nation safe.
Offer support (exercise with a friend; accompany a loved one to a support group or class to better themselves).
Connect. Invite others to join your efforts or encourage them to find something that's personally fulfilling to them.
No matter how small or large the gesture, our acts of giving back benefit our well-being and the well-being of our community as a whole. If you've ever heard the phrase "runner's high," there is also an emotional boost from volunteering and giving called "helper's high" that will leave you feeling confident, connected and energized. So do yourself a favor and find a way to get involved.
This year, Riverview Health has partnered with SERVE Noblesville. Employees will volunteer their time the week of June 28- July 1, 2017.
SERVE Noblesville is a partnership of neighbors, churches, businesses and organizations whose goal is to "Connect Compassionate Neighbors." We do this by designating a week of service projects to create a sense of pride and ownership in Noblesville.
For more information, please visit: http://servenoblesville.com/