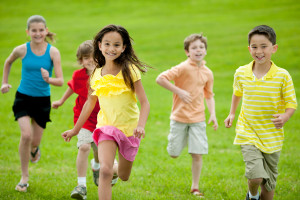 Over the past two decades, childhood obesity has skyrocketed—nearly doubling in children and tripling in adolescents. Child specialists now fear the current generation of children might live shorter lifespans than their parents due to the long-term effects of this growing problem. Obesity can lead to chronic disease in adults and adolescents, including diabetes, high blood pressure, heart disease, sleep apnea and liver disease. The good news is families can help turn this trend around with the right guidance.
The two keys to healthy weight are diet and exercise—keeping in mind children respond best to changes when caregivers join them in their efforts.
Let's talk first about diet. The earlier parents instill healthy eating habits, the better. But it's never too late to start teaching your kids how to eat healthy. Here are some helpful tips:
Provide three healthy meals each day. Don't forget the importance of breakfast. For older kids and teens with a busy schedule, there are many food options that can easily be eaten on the go.
Make healthy snacks accessible. Have colorful fruits and precut veggies available on low refrigerator shelves or counters and limit pre-packaged snacks.
Watch out for those sugary drinks. Limit juice to 4 ounces per day and cut out soda. Encourage water and low-fat milk.
Avoid using food as a reward or punishment. Instead, plan family outings as a reward for positive behaviors.
Cook with your kids. They'll be more apt to try new things if they helped prepare it. Kids take pride in their new creations!
Count the colors during meals. The more colors the better. You may ask your child which green vegetable they'd like with dinner?
Watch portion sizes. Using smaller plates can be helpful. Teach children to listen to their stomach. Are they still hungry when taking seconds? Encourage fruits and veggies for second portions.
Plan family meals. The more you can plan ahead, the easier it is to incorporate healthy foods. Sit down together and turn off the television. Reconnect with your kids during meals.
The second component of healthy living is exercise. This can be beneficial to your children mentally and physically. Aim for 60 minutes of play every day and try to involve the entire family. Some parents may think 60 minutes of exercise is a stretch goal, but keep in mind you don't have to engage in vigorous physical activity for your health and fitness levels to improve. Anytime your kids go on a bike ride, swim, play outdoor games, or tag along with you to the grocery store, they're getting exercise.
The key is to find something that is fun and fits your family's lifestyle. Register your family for a fitness walk or run. Or organize a family bike event. For other ideas, contact your local parks and recreation office or try a new sport or class together at a local fitness center such as Riverview Health Rehab & Fitness or the YMCA.
Making healthy living a family affair can allow you to connect with your kids while having fun—which, in turn, can help build strong lifetime bonds. Leading by example will benefit your entire family as well as your community.
---
Learn more about our pediatric services, locations and board certified doctors online.