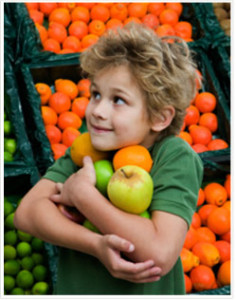 Childhood obesity has become one of America's most serious health problems. Only 2% of school-aged children meet recommendations for all food groups. While children receive nutrition information from a variety of sources, parents can play a vital role in teaching proper eating and nutrition habits. Research has shown greater intake of fruits, vegetables and milk plus a reduction in fried foods and soft drink consumption in children who frequently eat family meals at home. Increased frequency of family meals improved protein, calcium, iron, fiber, and antioxidant status. The beneficial impact of family meals also includes improvement in language and literacy skills while reducing the tendency of tobacco and alcohol use. When planning meals, it is important to involve children and offer a variety of foods. To improve awareness and interest in food, let children pick out recipes from cookbooks, help with the cooking or assist with grocery shopping. Focus on slow eating and chewing thoroughly to aid digestion. Always sit at the table and discourage grazing and eating in front of the TV.
Many times children mimic parental eating habits thus parents play a key role in setting good examples for proper nutrition, meal timing and portion sizes. Studies have shown that parents who consistently eat a variety of fruits, vegetables, low fat dairy, whole grains and lean meats have less picky eaters. Children (especially girls) are susceptible to following parental dieting habits and food elimination. While some diets may be safe for adults, they can be detrimental to a growing child. Parental attitudes on foods also play a role in the child's perception of that food. For example, foods labeled as "bad" may lead to overeating and secretive eating. Instead of limiting intake, it is better to make the "bad" food less available. It is important to not pressure children into eating certain foods as this method may cause the opposite effect. Try highlighting a new fruit or vegetable each week but do not force the child to eat it. The "clean plate" mentality is also dangerous and can lead to overeating, discomfort and the development of a poor relationship with food.
While mealtimes can play a vital role in a child's development and health, appropriate snacks must also be considered. Due to smaller stomach size, children need regular snacks to maintain energy levels. Nutrient dense snacks such as fruits, vegetables, whole grain crackers, nuts, low-fat yogurt and granola bars are all great choices. Avoid offering children high sugar, sodium and fat choices such as cookies, chips and convenience foods that offer no nutritional value.
Overall, studies have shown children will choose healthy options if they are available. It is a parental responsibility to provide variety and healthy choices and limit access to high calorie and low nutrient foods. While schools are working diligently to improve nutrition programs, only 20% of meals are eaten at school. Without the support of parents, American children will continue to struggle with healthy food choices and portion sizes causing catastrophic health conditions in their futures.
-Laura Kenny, RD