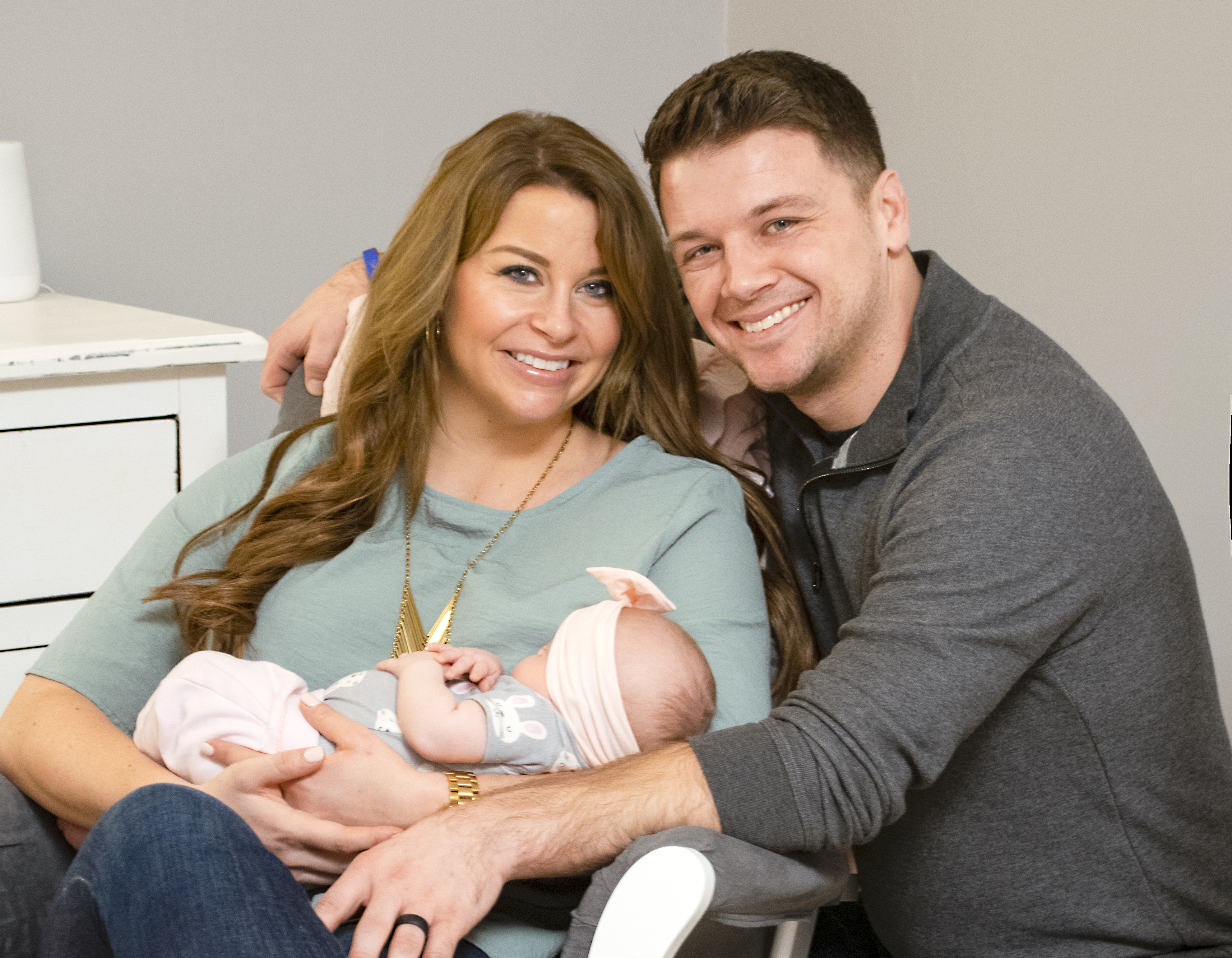 For Ryan and Lauren Cole, having a baby was always a part of their plan. So, not too long after getting married in October 2017, they found out their new family of two would soon grow to three. While the journey to pregnancy can be a long one for some couples, Ryan and Lauren became pregnant fairly quickly and everything seemed to be going as planned for the new parents-to-be.
Dr. Polly Trainor, Riverview Health Physicians OB/GYN, has been Lauren's physician for more than 10 years and would now be helping her start a family. Though Ryan and Lauren were already planning to deliver at Riverview Health because of their existing relationship with Dr. Trainor, the tour of the maternity center is what sealed the deal for them.
"You could tell it was a smaller environment, yet very professional with clean, big rooms," Lauren said. "The nurses also looked in close proximity to all the patient rooms, which was comforting to know."
With the maternity tour complete, they continued to prepare for their baby's arrival. They bought the necessary baby items, checked off each doctor visit and took a breastfeeding class. But even with all of their preparation, neither of them could have planned for what was coming.
"At 36 weeks, my ultrasound showed that I had too much fluid," Lauren said. "I was diagnosed as polyhydramnios. It was surprising because I really didn't have any symptoms."
Polyhydramnios occurs when there is an excessive amount of amniotic fluid that surrounds the baby in the uterus. In most cases, there is no harm to the mom or baby but the pregnancy should be closely monitored.
Lauren went in for her regular obstetrics visit the following week and was given a nonstress test due to the polyhydramnios. Dr. Trainor let her know that she would need to be induced within the next week.
"It is recommended to induce at 38 weeks with a diagnosis of polyhydramnios," Dr. Trainor said. "The excess fluid around the baby allows the baby to move around more, which creates a greater chance of malpresentation breech position and the baby getting wound up in the umbilical cord."
Ryan and Lauren would meet their baby sooner than they had expected. "If anything, we thought we'd be delivering late because we've always heard that is typical with your first," Lauren said. "So, when we were told we'd be induced at 38 weeks, it was a shock."
On Monday, Nov. 5, 2018, feeling both nervous and excited, Ryan and Lauren checked into the maternity center at Riverview Health.
Nearly 24 hours later, Lauren wasn't making much progress. Dr. Trainor mentioned the possibility of a Cesarean (C-section) delivery but made it clear she would avoid it as best she could.
"Dr. Trainor is always honest with us and gives us options, but I trusted her opinion," Lauren said. "I've heard of other moms in similar situations as mine where doctors jump so quickly to doing C-sections, but Dr. Trainor was adamant about avoiding it."
That night, Lauren credits Greta Shock, RN, her nighttime nurse, for getting her fully dilated.
"I swear Greta is what got me to 10 centimeters," Lauren said. "During my second night in the hospital, she made sure I was turning and laying in different positions. She was just great support."
Sure enough, when Lauren's daytime nurse, Megan Brophy, RN, went to check on her, she was excited to report that Lauren was just about fully dilated. The way Ryan and Lauren describe this portion of the labor sounds more like a pep rally than a hospital room with a mom who had been laboring for nearly 40 hours.
"I felt like Megan was more excited than me," Lauren recalled. "The energy in the room while I was doing practice pushes was so positive. The nurses made it fun. They were so encouraging, and you could tell they were proud of me."
Meanwhile, Dr. Trainor was called in and was preparing to welcome Ryan and Lauren's new baby. It was go time.
Excited that they had avoided a C-section, Dr. Trainor helped Lauren through the final stages, and just like that—baby girl River arrived. But after the long wait to finally meet their baby, the Coles had to delay their joyous meeting a little longer.
"The nurses put River on my chest for what felt like only 10 seconds before they picked her back up," Lauren said.
Silence filled the room. The first cry that indicates a newborn's lungs are working properly never happened. Ryan clearly remembers the joyful, exciting mood completely changing as the pediatric hospitalist on staff was called in. Due to the excess fluid in Lauren's uterus, River had inhaled fluid during delivery causing her to have trouble breathing.
Through a partnership with Peyton Manning Children's Hospital, the maternity center at Riverview Health has pediatric hospitalists on-site 24/7 to provide care for newborns and pediatric inpatients.
"I was able to get to River's bedside right away," said Dr. Krystal Widau, pediatric hospitalist at Riverview Health. "This was crucial to the well-being of River. I was able to suction out quite a bit of fluid from her that she swallowed during delivery and begin effectively ventilating her, or essentially breathing for the baby."
After Dr. Widau's quick intervention, River could take spontaneous breaths on her own and was transitioned to continuous positive airway pressure (CPAP)—supplemental oxygen that helps keep a baby's airways open.
New parents Ryan and Lauren feared the worst as their baby was taken to the Level II special-care nursery for infants requiring intensive care.
"We were able to monitor River here in our own Level II NICU at Riverview without having to transfer her to a higher level care facility," Dr. Widau said. "This was wonderful for the family, as mom and dad were able to continue doing skin-to-skin and work on pumping as well as breastfeeding when River was stable enough."
River was slowly weaned off CPAP over the course of about 36 hours, and by Friday—two days after she was born—Ryan and Lauren were able to take her home.
"By the time we were discharged Friday night, everything was fine," Lauren said. "River is a great baby and sleeps really well at home."
As new parents often do, Ryan and Lauren are learning as they go—and one lesson they learned quickly is to expect the unexpected.