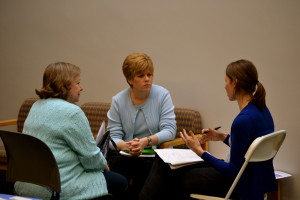 Most of us are familiar with or have heard the acronym BMI (Body Mass Index). You may even know your exact BMI number. But do we truly understand the importance of what this number indicates? When you think of BMI, does it trigger a "Bad Mental Image" or is it more of a "Big Mysterious Identity?" Either way, it is important to not only know your current BMI number, but to also understand what it means for your overall health.
While the BMI system may not be perfect, it does provide a good gauge of an individual's risk for diseases including heart disease, high blood pressure, Type 2 diabetes, gallstones, breathing problems, and certain cancers such as endometrial, breast, prostate, and colon.
By definition, BMI stands for Body Mass Index and is calculated by dividing body weight by the square of a person's height. While it does not directly measure the percentage of body fat, BMI measurements correlate to body fat and thus can be considered an acceptable alternative. Since BMI only factors in height and weight, we can quickly and inexpensively assess how much an individual's body weight differs from desirable weight.
BMI categories:
<18.5 = Underweight
18.5 to 24.9 = Healthy Weight
25 to 29.9 = Overweight
30 to 34.9 = Obese Class I
35 to 39.9 = Obese Class II
>40 = Obese Class III
It is recommended that individuals who fall into any of the obese categories should focus on losing weight. Overweight individuals who also have risk factors such as hypertension, abnormal cholesterol levels, elevated glucose, sedentary lifestyle or who smoke would also benefit from weight loss. It is not always necessary to obtain a BMI in the healthy range as a mere 5 to 10% weight reduction can lower risk of chronic disease development.
For some population groups, BMI may be less accurate. Since muscle weighs more than fat, athletes and individuals with muscular builds weigh more; and therefore have inaccurately higher BMI numbers. On the other hand, BMI may underestimate body fat in the elderly due to age associated muscle loss.
It is important to remember that BMI is used for screening possible weight problems but should not be used as a diagnostic tool. In order to fully determine health risk, other measurements such as skinfold thickness, family history, physical activity and diet history should be considered. Overall, it is important to know your BMI number. Many on-line BMI calculators and charts are available. If your BMI is above 25, assess if weight loss would be an ideal course of action to lower your risk of chronic disease. It is especially important to lose weight if you already have other risk factors for disease. Even a small amount of weight loss can improve your quality and quantity of life.
Practicing what we preach!
Recently, as part of our Employee Wellness Weight Management Program, we introduced a new initiative called Minimize your BMI. Led by our Wellness team, employees sign up for the program and attend an initial wellness coaching session. Here, they have an opportunity to meet one-on-one with Laura Kenny, a Registered Dietitian and also weigh in and set goals. For every month the employee's BMI number drops by one (or if they reach their BMI goal number), they are entered to win massage gift certificates. If an employee reaches his/her target weight in the first month, he/she continues to be eligible to enter the certificate drawing each additional month he/she maintains the weight loss. The program runs through the end of 2011 and weight checks are held the first full week of every month. Employees are encouraged to join independently or ask a coworker to join with them! Kristin Lamb, our Wellness team coordinator, checks in with participants via e-mail on a weekly basis to offer motivation, accountability, and ideas to help participants get results. As an additional motivator, fitness classes – both a general and specialty class –  are held at the hospital weekly. One lucky participant in each class is chosen to receive a Subway gift card. In addition, "weigh and walks" take place on Fridays where employees can weigh in and take a quick walk outside for some fitness and fresh air. Interested in a wellness program for your business or organization? We can help! Contact Sarah Estell: sestell@riverview.org.
In all, weight loss and weight maintenance are not easy, but it can be done. We encourage you to take a look at your numbers, create a realistic plan, get moving, and have fun with it!