By Kristin Lamb, CHWC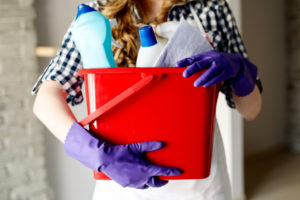 Spring is here and with that comes spring cleaning. This can be a lot of work but it usually gets our endorphins running and puts us in a good mood. This is especially true when we take full advantage of the nice weather we have been waiting on for so many months! And with every project, from reorganizing the closets to cleaning the garage, we're given the opportunity to remove dangers from our homes, safeguard our family and improve our well-being. So, while you're in the midst of tearing through the house from top to bottom, take a moment and complete the following:
Post emergency numbers. Our cell phones are great tools, but in an emergency, it's a best practice to have information written and posted in easy-to-access spots. Include the home address if you have young kids in the house.
Check your medicine cabinets for expired medicine and dispose of them safely.
Make sure all household chemicals (cleaning supplies, fertilizers, automotive fluids, etc.) are in original containers, tightly sealed and kept in a locked cabinet. They should always be out of sight and reach of children in a clean, dry, non-cluttered area.       And remember to use fans for ventilation while cleaning and never mix chemicals.
If you have gas energy in your home and don't already have a carbon monoxide detector, purchase one for each level of your home. If you have one, take a moment to make sure it's in working order. All fuel-burning appliances (furnace, hot water heater, stove, etc.) should be serviced regularly to be sure they work properly.
Check your smoke detectors monthly. Add this to your calendar for a regular reminder.
After you've cleaned your home, don't forget the second space where you spend a lot of time—your work space. Taking pride in your desk, office or work space is an easy way to boost your workweek, and it reflects well on your organization. Get organized, rid your space of junk food and be sure to disinfect your phone, keyboard, etc. on a regular basis.
With all these tips, you'll be on your way to a happier, healthier start to the spring.