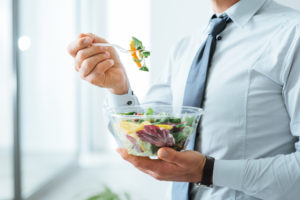 By Tom Dooley
Director of Business Services
Your organization depends on a healthy and productive workforce. To ensure your workforce stays healthy and well, it's vital to promote a culture of health and wellness. The first step is to provide health and wellness programming so employees and their dependents feel empowered to take charge of their own health. Riverview Health offers many services to help employers develop and implement a customized wellness program. Wellness programs help employees engage, change short- and long-term behaviors and gain better overall health.
The second step to promoting a culture of health and wellness is to prepare for the unforeseen. The WorkMed program at Riverview Health offers a full range of occupational medicine services. Whether your need is large or small, WorkMed focuses on keeping employees healthy and providing the treatment they need to get back to work quickly, while minimizing worker's compensation costs and healthcare costs.
As a full-service hospital with 23 primary and specialty care locations and more than 35 healthcare specialties, we have the resources to help you bring health and wellness to your workplace while also providing the individual attention you deserve. Achieving success with a wellness program is all about individualization, and we'll work closely with you to tailor your program to fulfill your needs.
For more information contact Tom Dooley, director of Business Services, at tdooley@riverview.org or 317.770.4881.