By Stephanie A. Brazus, MD
Riverview Health Physicians OB/GYN

How important is exercise for healthy pregnant women? Exercise can give you more energy, boost your mood and help you sleep better. It can improve your posture, relieve back pain and other pregnancy discomforts, and prepare you for childbirth.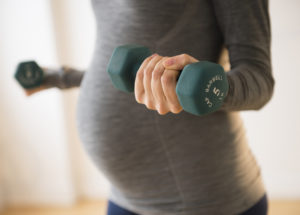 Even if you're new to exercise, now is a fine time to start—as long as you consult your doctor first to choose exercises that will be safe for you and your baby.
How often?
The American College of Obstetricians and Gynecologists recommends 30 minutes or more of moderate exercise on all or most days for healthy pregnant women receiving prenatal care. Moderate exercise means you're breathing hard without overheating or overworking, and you should be able to talk normally while working out. At the minimum, three days a week is enough to maintain a reasonable level of fitness.
Safety first
Try exercise classes designed specifically for pregnant women or classes that offer safe variations for pregnant women. The safest exercises include:
Swimming tops the list for most doctors. Really, how can you beat having the water supporting your weight while you simultaneously tone muscles and work your heart?
Walking for exercise is also important, and it's something you can do even if you weren't active before getting pregnant. To jumpstart your walking mindset, park farther away at the grocery store. Stroll through the zoo with your family. Go for a walk with a friend after dinner.
Yoga can relieve stress while keeping your body strong. Sign up for prenatal yoga or choose a class that isn't too rigorous, and be sure to let the instructor know you're pregnant before the class starts.
Additional exercises can be with a stair climber machine, a stationary bike or a low-impact dance class.
If you're an athlete, talk about exercise with your doctor throughout your pregnancy. With your doctor's permission, you can continue vigorous exercises like jogging, racquet sports or lifting weights just as you regularly did before pregnancy. But avoid contact sports such as soccer or basketball, as well as sports with a likelihood of falling, like waterskiing, downhill skiing or horseback riding.
More guidelines to keep in mind
After the first trimester, avoid exercise that requires lying on your back.
Listen to your body, because your exercise capabilities change in pregnancy.
Choose exercises that don't require balance, because your coordination and center of gravity can change.
Dress appropriately, drink lots of water and skip exercising when it's hot or humid.
Stop exercise if you notice any of the following: bleeding, vaginal water loss, heart palpitations, abdominal pain, persistent contractions, or sudden swelling in ankles, hands or face.
Again, always talk to your doctor first before you exercise during pregnancy, even if you exercised regularly before pregnancy. This is especially important if you're obese or underweight, or if you have anemia, high blood pressure or diabetes. With your doctor's green light, you can take the right steps toward a happy, healthy pregnancy.
Sources: ACOG.org, healthgrades.com
---