By Katie Boscia, RD, IBCLC
It can be tough to figure out how to pack a school lunch that's healthy and something your child will actually eat. Here are some ideas to make lunch a little easier.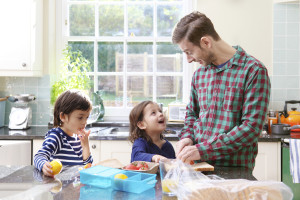 Try a wrap. Instead of a boring sandwich, try using your child's favorite lunch meat on a tortilla. Then you can add cheese and sneak in some healthy foods like lettuce, tomato or cucumbers. Roll up the tortilla and cut into bite-size pieces to make it fun to eat.
Don't forget the dip. Children love anything they can dip. Cut up some vegetables and pack a container of ranch, hummus or salsa, and let them dip away.
Shapes can entertain and entice. If you have trouble getting your picky eater to try different things, try cutting fruits and sandwiches into fun shapes such as stars or hearts. They'll have fun eating their differently shaped foods.
Let them help. Have your child help plan and make his or her own lunches. When kids feel more in control, they're more likely to eat what's packed in their lunch.
Make it a theme. You can quickly pack a lunch that's theme-inspired to make them want to eat. Try Mexican food by taking a tortilla, spreading low-fat refried beans on it and adding cheese, lettuce and tomatoes. Put some veggies and salsa on the side for dipping. Your theme can also be color-inspired such as red, white and blue to make eating more fun.
Make it a snack lunch. Sometimes kids need a break from lunches with the typical sandwich, side and dessert. Pack several different snack-type foods to make it more fun to eat. Try snack mix with nuts, raisins and chocolate, or try popcorn, ants on a log (celery with peanut butter and raisins), yogurt with granola, or any other healthy snack-inspired foods.
Don't forget dessert. Dessert doesn't have to be cookies or candy. There are several options that can be healthy and yummy. Pack fruit with a yogurt dip or apples with caramel dip. Snack mixes that have dark chocolate in them are healthy but sweet. Apples with cinnamon are another option. Be creative!
---
Learn more about eating healthy by participating in a one-on-one nutritional counseling program at Riverview Health.