By Carol Gelatt, RN, BSN
Eating healthier is a common goal for many families. Taking the proper steps to achieve that goal may include how you plan for lunch because what you eat at lunch may influence your energy level throughout the rest of your day.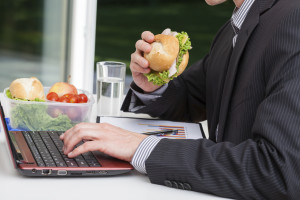 Use the acronym LUNCH to help you choose healthy midday meals.
Lean protein

Choose proteins such as chicken, fish, turkey, lean red meat and eggs. Meat that's roasted, baked or grilled is a healthier option than fried meat. Another alternative is to use legumes, such as black beans, on top of your salad.

Use a healthy beverage—rethink your drink

Sugar-sweetened beverages (e.g., soda, sweet tea, fruit juices) add extra calories to your diet. Substitute with healthier options such as low- or non-fat milk, water, or no- or low-calorie drinks.

Nutritious fruits and vegetables

Stock your refrigerator with colorful individual servings of fruits and vegetables. Preparing these foods ahead of time makes easy grab-and-go additions to your meals or snacks.

Choose whole grains

Whole grains (e.g., whole wheat pasta, whole grain bread and brown rice) contain more vitamins, minerals and fiber than refined grains. Consuming whole grains at lunch will leave you feeling fuller and more satisfied at the end of your meal.

Healthy choices are easy choices

Stock your kitchen with healthy food. When dining out, be mindful of the more nutritious food items on the menu and look for healthy items in vending machines. This will help you prepare to continue making healthy choices.
Additional resource: CDC: Division of Nutrition, Physical Activity and Obesity
---
Learn more about eating healthy by participating in a one-on-one nutritional counseling program at Riverview Health.