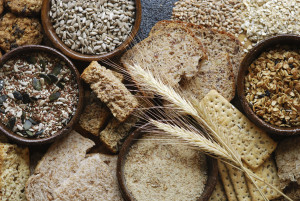 By Katie Boscia, MS, RD, IBCLC, CDE
Everyone can benefit from a carbohydrate-conscious diet, not just people living with diabetes. When people are first diagnosed with diabetes, they sometimes cut carbohydrates, or carbs, completely from their diet. This is unfortunately not the way to go. Any extreme diet restriction that's not medically necessary can deprive your body of important, necessary nutrition. Everyone needs carbs for proper brain function, so cutting out carbs would mean cutting out some essential nutrients. Additionally, it's very hard to maintain a diet that's lacking in carbs. Most people who cut out carbs will fill up on fattier foods, causing cholesterol and heart problems. A "diet" of any kind should not be a part of your plans. Instead, plan on building a "lifestyle" of eating.
Instead of being afraid of carbs, try to count the carbs you're eating and stay within a reasonable range. Carbs are found in foods that can cause your blood sugar to rise, including fruits, milk, yogurt, breads, cereals, pastas, corn, potatoes and peas. Most people should eat between 45 to 75 grams of carbs per meal. In order to find the right amount for you, a registered dietitian can help you with meal planning. The right amount depends on your age, sex, height and weight, as well as other medical issues you may have. The more consistent you are with your carbs, the better your body will process the foods. Consistency in meal planning and nutrition might also help you lose weight as an added bonus.
It's important to include well-rounded meals in your plan and not focus on cutting out any food groups. You should try to eat at least every four hours so your body doesn't think you're starving it. A food journal or an app that helps you track your foods such as My Fitness Pal can help you see if you're getting the right amount of carbs as well as other foods in your diet. It may take some planning and practice to make sure you're getting the foods you need in the right amounts, but in the long run you'll be healthier and feel much better!