By Ryan Lawson, exercise specialist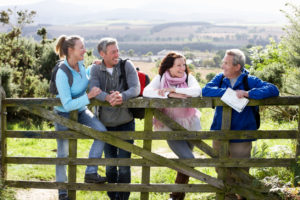 Hopefully by now we all know there are countless physical benefits to integrating exercise into our daily routine. Even though we may know exercise is great for us, occasionally life gets in the way or we lose our motivation to stay physically active. Whether it's because we've hit a plateau or we are just struggling to find the time, it's important that we overcome these speed bumps along the way.
This is where integrating socialization into your exercise can be paramount. Often, the motivation, accountability and benefits of exercising—either with a partner or in a group setting—cannot be understated. There have been plenty of studies that have found that combining a social setting with physical activity leads to positive mental and physical well-being.
The mental and physical benefits of exercise go hand-in-hand. It has been proven time and time again that exercise helps us better cope with depression, anxiety and stress. Regular physical activity has even been shown to help increase our focus on everyday tasks. Exercise allows the body to produce and release endorphins, which in turn lead to a more positive mental state. The many positive benefits of exercise on mental health include feeling better overall, higher self-esteem and sharper memory and thinking.
Now that we know how exercise helps with our mental health, it's also important to look at the benefits of exercising on our social well-being. We live in a world where most social events are centered around food. This doesn't have to be the case. Integrating exercise into our social life has been shown to have a positive impact on more than just our physical health. For example, exercising with a friend, or in a group setting, passes the time quicker, makes us more likely to try new things and brings variety because we all have different skills and knowledge. Also, having a regular exercise buddy means you're going to have someone there to motivate and support you, as well as hold you accountable.
Don't be afraid to get creative. There are multiple ways to combine physical and social activities. For example, you could:
Get a group of friends together and go hiking and exploring at a state park.
Sign up for team sports
Find a local fitness class
Get a dog to take walks
Sign up for a road race
No matter what you do, it's important you find something you like and make sure to participate in it with people who have similar interests.