Laura Kenny, MS, RD, CD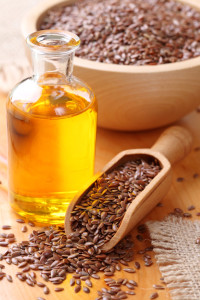 Research has shown trans fat along with excessive saturated fat can have a negative impact on health, but what about the newly popular omega-6 fatty acids such as linoleic acid and arachidonic acid? While so commonly confused with omega -3's, omega-6's are considered pro-inflammatory meaning they promote inflammation and trigger disease. Omega-3's which are found in fatty fish, fish oil, walnuts and flaxseed are anti-inflammatory and help prevent disease. They have been shown to reduce the risk of heart disease, cancer and stroke. Medical research suggests that disproportionate levels of omega-6's to omega-3's increases the risk of these diseases along with many others. Many of the medications used to treat and manage these conditions actually work by blocking the effects of omega-6's. Modern American diets typically boast an omega-6 to omega-3 ratio around 10 to 1, sometimes as high as 30 to 1 while the optimal ratio for health is 4 to 1.
So how do we improve our ratio and move towards the optimal 4:1? Start by checking out the two charts below and evaluate where you can make changes to increase consumption of chart A foods and decrease chart B options. Chart B foods can be eaten in moderation so don't feel obligated to eliminate these foods entirely. Be realistic by focusing on small changes and incorporating more chart A foods into your daily plan.
Chart A: Foods with Anti-Inflammatory Ratio
| | |
| --- | --- |
| Food | Omega-6: Omega-3 Ratio |
| Fruit | 3:1 or better |
| White Potato | 3:1 |
| Sweet Potato | 4:1 |
| Green Vegetables | 1:1 |
| Grass-fed meat | 3:1 to 5:1 |
| Wild game | 3:1 or better |
| Fresh fish | 1:1 or better |
| Farmed-Raised Salmon | 1:1 or worse |
| Flaxseeds | 1:4 |
| Hemp Seeds | 2.5:1 |
| Chia Seeds | 1:3 |
 Chart B: Foods with Pro-Inflammatory Ratio
| | |
| --- | --- |
| Food | Omega-6:Omega-3 Ratio |
| Nuts | 5:1 or worse |
| Grain-fed meat | 5:1 or worse |
| Grain-fed chicken (white meat) | 15:1 |
| Grain-fed chicken (dark meat) | 17:1 |
| Grains (wheat, rye, oats, barley) | 20:1 |
| Potato Chips | 60:1 or worse |
| Seeds and seed oils (corn, sunflower, safflower, peanut) | 70:1 or worse |