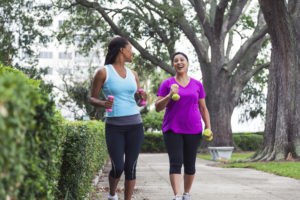 By Brittany Nelson, MS, RD
Wellness Dietitian
Traditionally, employers have shown their employees they care about them by providing health insurance, workplace safety improvements and added health and wellness benefits. Today, employers show support for their employees' health and well-being by offering health and wellness services. Though these services can range from biometric screenings to "biggest loser" weight-loss challenges, the goal of all services is to help employees be successful in making healthful changes.
Weight loss is one of the most common health changes employees aim to achieve. Obesity affects all employers because it affects employees' productivity and their overall health, which can cause absenteeism. Therefore, Riverview Health has designed an initiative to help employers support their employees during weight-loss and weight-management changes.
Body Knowledge is a weight-loss and weight-management program designed to help keep your employees accountable, confident and motivated to make healthful changes while better managing and understanding their weight. Body Knowledge features a BOD POD to identify chronic disease risks related to overall body weight, as well as track fat loss and muscle preservation when losing weight. The BOD POD is the gold standard for measuring body fat percentage and fat-free mass. Throughout the program, obtaining BOD POD results will allow employees to better understand the type of weight they're losing, which is pertinent when maintaining weight loss. Along with BOD POD testing, the program allows employees to work one-on-one with a registered dietitian and certified health and wellness coach to continue making changes to their physical, emotional and behavioral health.
Corporate discounts are available. For more information about Body Knowledge, BOD POD assessments or discounts on these programs, please contact Tom Dooley, director of Business Services, at tdooley@riverview.org or 317.770.4881